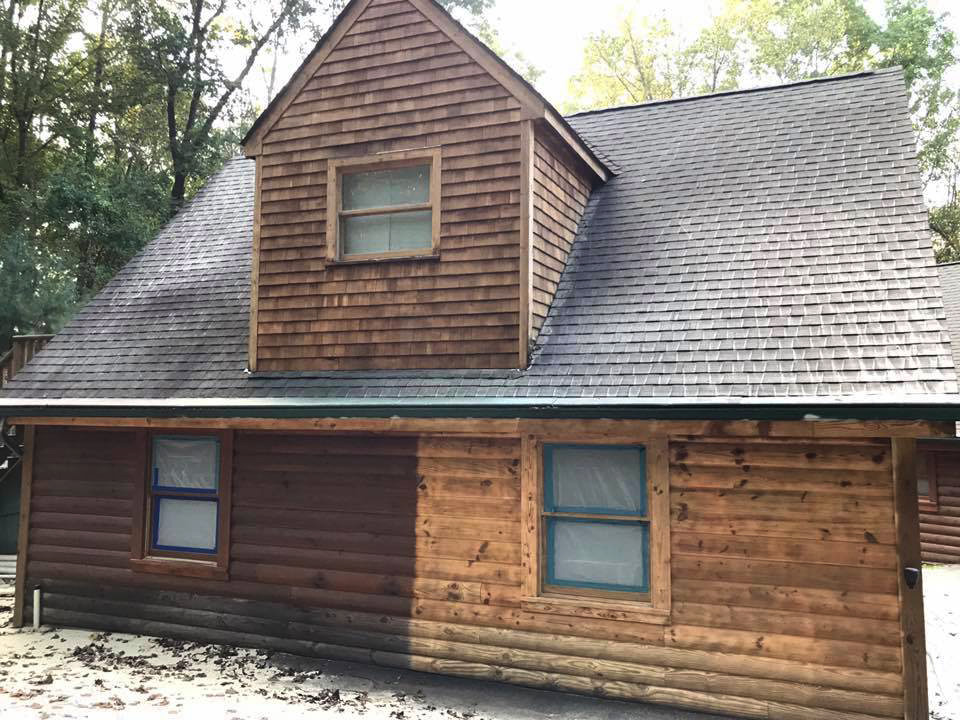 If you're just now learning about dustless blasting, you may understand how the process is a hybrid between sandblasting and power washing.
However, you may not realize that dustless blasting is gentle enough to use on softer materials like wood.
Believe it or not, dustless blasting is a viable option for wood stripping and restoration.
Below, we've detailed everything you need to know about dustless blasting wood stripping and restoration so that you can determine whether it's a viable option for your next project.
Wood Restoration
If you have a piece of old wood, you may not think that it's possible to restore it to its original appearance.
However, you can do so.
No longer will you be stuck with furniture that has an old, grey appearance and musty smell. Instead, you can restore its wood to its original appearance. Many different companies may market their ability to restore the wood.
Common methods include:
Chemicals
Sandblasting
Soda blasting
Dustless blasting
Cleaning Wood With Chemicals
One of the most common ways is through the use of chemicals.
Unfortunately, people don't realize how harsh chemicals can be on wood. Chemicals could ruin the structural integrity of the wood entirely. Simply put, chemicals are too harsh for antique wood and aren't a useful option.
Additionally, you need to be careful when applying chemicals. If you were to use chemicals, you need to make sure that they seep into every crevice of the wood. Thus, chemicals are only a viable option for small projects. If you're using them on large projects, such as an entire house, your application will be inconsistent.
Sandblasting Wood Surfaces
The next method for wood restoration that you may see is sandblasting.
Many people are skeptical of this method, asking themselves,
"Can wood be sandblasted? Does blasting damage wood?"
People asking these questions are correct. No matter if you're sandblasting wood furniture or sandblasting wood siding, the results are the same.
Sandblasting is too powerful for wood.
If you are attempting to sandblast an older wood, you're taking a significant risk. There's no way of knowing the structural integrity of the wood or what type of wood you're dealing with. While you may end up cleaning the wood, you also may end up causing permanent damage to the wood as well.
This damage is irreversible.
Soda Blasting Wood Surfaces
Another standard method for wood restoration is soda blasting.
Soda blasting wood is not exactly the most practical option either. Soda blasting is similar to sandblasting, except it relies on baking soda instead of sand. As you could imagine, soda blasting wood makes quite the mess.
Baking soda ends up everywhere.
If you're going to soda blast indoors, you need to make sure that you have a lot of ventilation to do so. You also need to make sure that you cover everything, or else the baking soda will end up on top of everything.
Knowing this, it makes sense just to move the soda blasting outside, right? This too is not a viable option. Baking soda will decimate your vegetation. The surrounding grass and plants will all die after the baking soda lands on it.
So, while you'll end up cleaning your wood, you might also end up doing more harm than good outdoors.
Wood Restoration with Dustless Blasting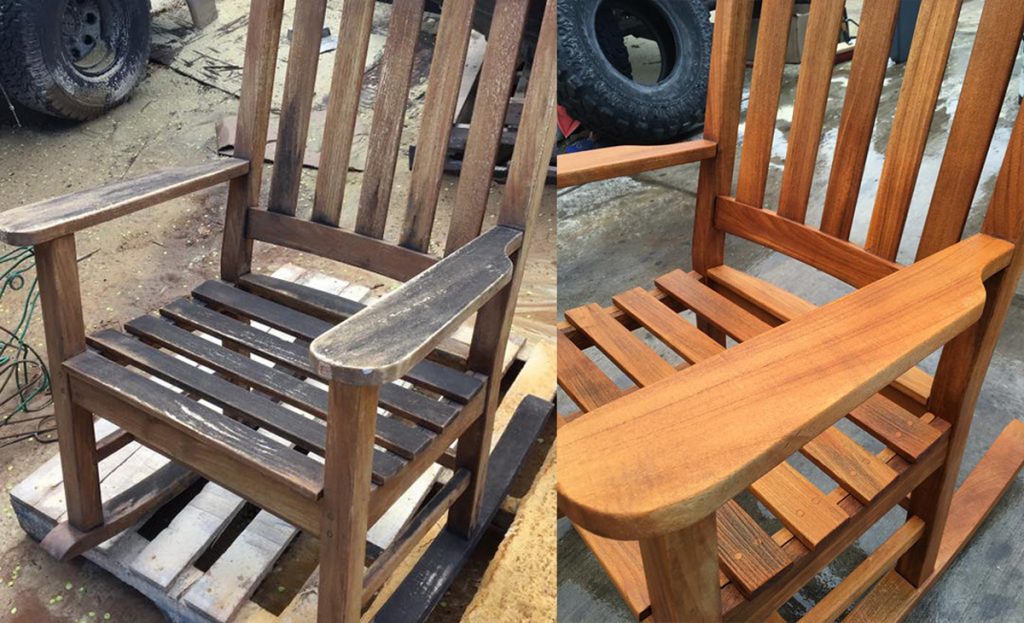 So, what can you do to clean wood?
Fortunately, there is an option that trumps the rest. Dustless blasting is similar to sandblasting, except it is not nearly as harsh.
One of the first things you'll find when comparing sandblasting wood v. dustless blasting is the fact that dustless blasting combines water with an abrasive. Sandblasting uses nothing more than sand. Dustless blasting, on the other hand, uses an abrasive and water.
This is a significant advantage of using dustless wood restoration blasting.
You don't have to worry about damaging the wood. While dustless blasting is powerful enough to remove years of caked-on dirt and grime, it's also gentle enough to preserve the structural integrity of the wood.
Additionally, you don't need to worry about where dustless blasting takes place. Dustless blasting machines are mobile. It's easy to use dustless blasting options anywhere. If you are looking to restore a large amount of wood, such as an old barn, dustless blasting is a viable option.
Furthermore, you won't have to worry about the same problems as you would when soda blasting. Because dustless blasting uses water, there is no dust or debris. The water "tampers" the dust.
The only thing that you're going to have to worry about is water runoff. But, the water is entirely safe, and it won't damage any surrounding plants.
Wood Etching with Dustless Blasting
The other reason you may be looking to use blasting services is for wood etching. Wood etching allows you to carve designs into the surface of the wood. Engraving in wood gives you a more natural appearance and looks much cleaner than painting.
It's also possible to etch in numerous different surfaces, including concrete and granite.
Dustless Blasting Etching
Dustless blasting etching is an excellent option for everything from wood etching to concrete etching. The fact that dustless blasters can etch in a wide array of materials demonstrates how it's a firm yet a gentle option.
Custom etching is one of the cooler features of dustless blasting. Dustless blasters allow you to put any type of message into any surface. Engraving gives off quite a professional appearance.
For instance, perhaps you'd like to put your company logo into a wood banner hanging outside your office. Maybe you'd like to put a "No Diving" notice onto a pool deck.
No matter your reasoning for the etching, dustless blasting makes it possible. You can pick practically any design and etch it into the surface.
Custom wood etching is not as expensive as you'd think. And, if you factor in the cost of having to paint and repaint a surface over and over again, the cost becomes negligible. Custom wood etching is also not as prone to sun damage as other things like paint, which can fade over time.
Dustless Blasting Wood
Dustless blasting wood is the best option available if you are looking to restore materials to their original appearance.
Other options are not worth considering. Chemicals and sandblasting are entirely too risky to use on wood, especially if the wood is dated. There's no way of knowing how the wood will respond to the treatment, and there's a chance that you ruin the wood forever.
Other options, like soda blasting, aren't viable options because of the mess that they create. You'll need to spend time making sure that you have adequate ventilation.
Dustless blasting eliminates all of these concerns. The process is gentle enough to use on soft materials like wood. Dustless blasting is merely a high-powered water stream with a gentle abrasive. It's strong enough to remove dirt but gentle enough to protect underlying surfaces.
Not only is dustless blasting a useful option for restoring wood, but it's also viable for custom etching in timber and concrete. If you're looking for a professional way to put your company design or message into wood or concrete, be sure to contact Willsha Blasting.
At Willsha Blasting, we specialize in dustless blasting options.
We have a mobile dustless blasting machine that we'll bring to you. No matter if you're looking to restore old chairs or siding on a house, we can help.
Dustless blasting is an investment well worth making for the future of your wood. Give us a call or contact us today to learn more about how our dustless blasting services can help you.