Dallas – Fort Worth Pool Tile Cleaning & Pool Deck Restoration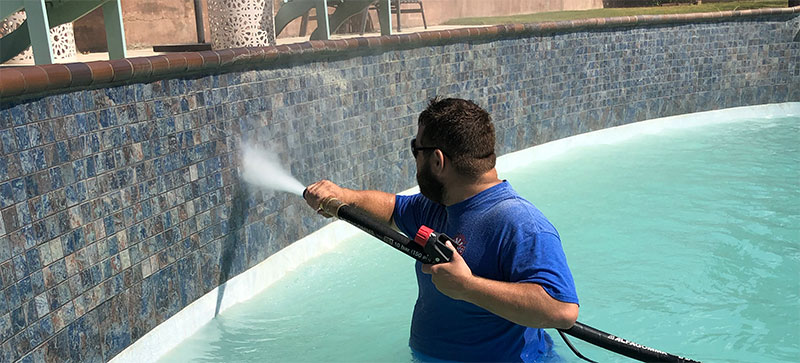 If you're a pool owner in the Dallas – Fort Worth area, you have probably noticed the calcium and various build-ups around your pool.
Failure to clean and remove these build-ups could cause the materials in your pool to break down, escalating repair costs.
A lack of cleaning could also promote the growth of algae, which can expect carbon dioxide and raise the pH level in your pool. Many pool owners don't realize that algae can grow behind the walls of their pool.
Calcium buildup is an issue that can affect the balance of the water in your pool. Performing pool tile cleaning and buildup removal regularly could save you money, as you won't have to invest in as many chemicals to keep your water balanced.
Below, you'll find everything you need to know about pool tile cleaning, restoration, and pool paint removal.
No matter if you're curious about the best way to clean pool tile or how to remove calcium build-up from a pool, you'll find your answer below. You'll likely be surprised to find out that there is an all-encompassing option that allows you to tackle all of your cleaning needs.
How to Remove Pool Paint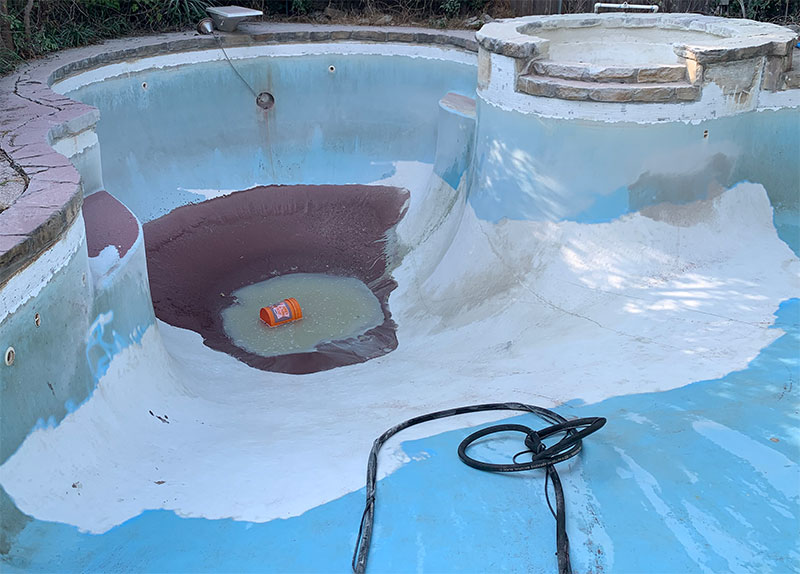 If the paint on your pool is beginning to crack and chip, or you merely would like to give your pool a "facelift," then you need to remove how to remove pool paint. When learning how to remove pool paint, you need to make sure that you use a tool powerful enough to remove the paint quickly and efficiently.
Two of the most common methods to remove pool paint are chemicals and sandblasters. The most significant issue with both of them is that you need to drain the pool to use them and they require a lot of cleanup.
Chemical spills could ruin other areas of your pool, so you need to be particularly careful if using these paint strippers. And sandblasting relies on fine-grain sand to remove paint. The sand is similar to the type that you'd find in a sandbox at the local park.
Imagine having to clean this up from the bottom of your pool! It'd be a nightmare. And, there's a strong chance that it would clog your pool system, causing complications down the road.
So, what's the best way how to remove pool paint?
Dustless Blasting.
Dustless blasting uses an abrasive like sandblasting, but it combines the abrasive with water. Dustless blasting is a hybrid between sandblasting and power washing. It's strong enough to remove pool paint but is gentle enough to protect underlying materials.
Your pool system can quickly cycle any by-products that occur as a result of dustless blasting. Dustless blasting is entirely safe to use with water in the pool. Dustless blasting may cost a bit more in the short-term compared to chemical strippers or sandblasting, but it will save you a to of money in the long-term.
The Best Way to Clean Pool Tile
If you are wondering the best way to clean pool tile, you may be turning toward power washing. Power washing is nothing more than using a high-pressure blast of water to get rid of dirt and debris.
But what if you have stubborn dirt stuck onto your pool? What should you do then?
That's right; you guessed it – dustless blasting.
Dustless blasting is similar to power washing, except it also adds an abrasive to the equation. Dustless blasting allows you to strip the hard-to-reach dirt that power washers don't have the strength to remove.
Dustless blasting is just as safe to use in the pool as power washers as well.
Dustless Blasting Your Pool Tile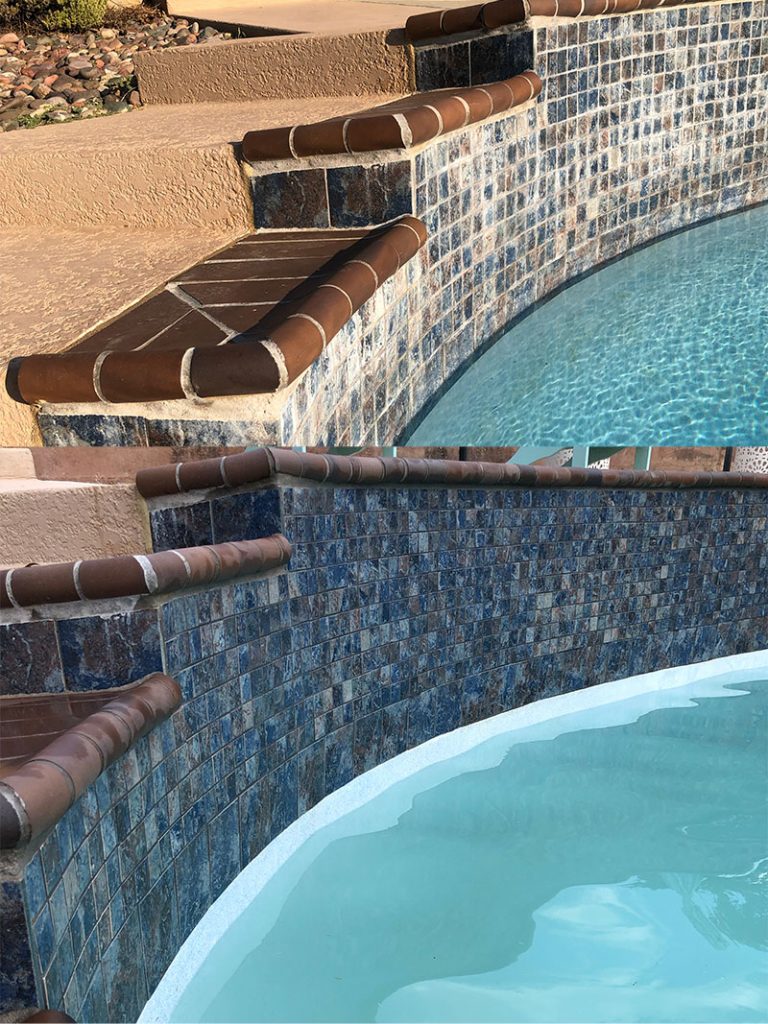 Dustless blasting is by far the best way to clean pool tile.
Everyone, from those wondering how to clean mosaic pool tiles or how to clean glass pool tile, will find that dustless blasting is a useful option.
Dustless blasting is strong enough to remove algae and calcium deposits from any surface. Unlike sandblasting, the abrasives aren't strong enough to cause permanent damage or ruin the mosaic tile.
Dustless blasters are gentle enough to use on any material. The blasters aren't nearly as harsh as chemicals. No matter what type of pool you own, dustless blasters are a viable option to help restore it to its natural appearance.
Dustless blasting pool tile is a painless process that will help improve the lifespan of your pool.
Dustless Blasting Your Swimming Pool Surface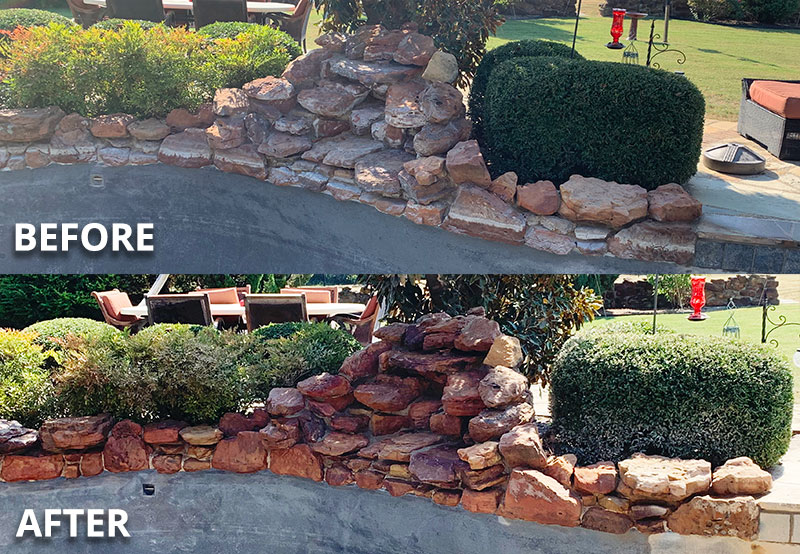 The process of dustless blasting swimming pools is rather straightforward. Experts will come in with a dustless blasting machine. They'll enter your pool and go around, spraying the walls with the dustless blaster.
After dustless blasting the swimming pool, the clean-up process is easy and our crew will handle everything. Because dustless blasting primarily relies upon water, you just need to run your pool's pump system to remove any leftover debris.
Pool Tile Restoration
Unfortunately, too many people neglect pool tile restoration. If they open their pool at the beginning of a season and discover that it's dirty or damaged, they're often too quick to replace the tile entirely without realizing that pool tile restoration is entirely possible.
Dustless blasting can remove caked-on dirt and will have pool tile looking like new.
After cleaning your pool tile, you can quickly replace a few tiles that may be damaged. Dustless blasting is the only option strong enough to repair even the dirtiest of pools.
Dustless blasting may cost a bit more than sandblasting or chemical strippers, but it will save you significantly in the long run as you won't have to invest in a complete overhaul or remodel of your pool.
Pool Tile Cleaning Services for Calcium Buildups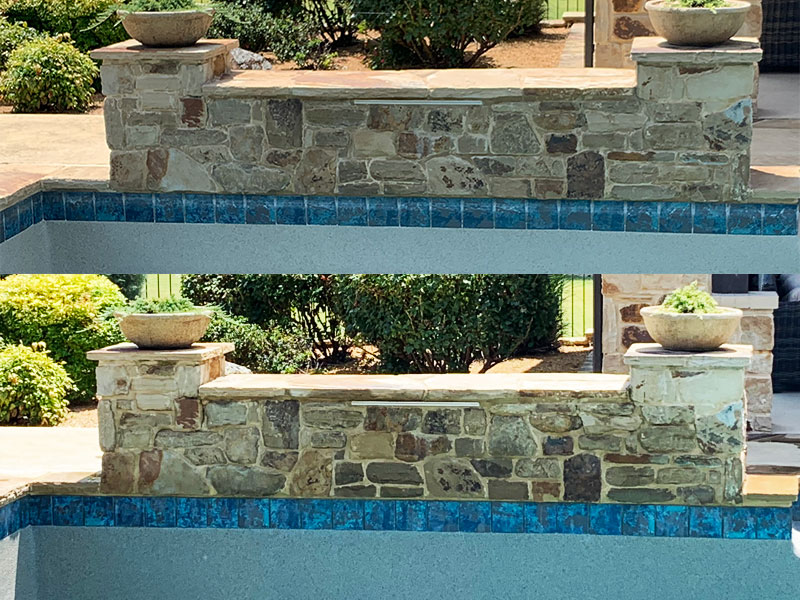 What is the best way to remove calcium deposits from pool tile?
Those wondering how to remove calcium buildup from a pool have likely searched far and wide on the internet for an answer. Perhaps they've used various chemical and brushes attempting to remove the calcium buildup by hand.
We find the best way to remove calcium is with dustless blasting.
Because dustless blasting uses an abrasive, it's strong enough to remove stubborn calcium deposits without ruining the underlying surface.
Pool Tile Cleaning Near You
Are you interested in dustless blasting services near you? Those looking for pool tile cleaning in the Dallas – Fort Worth area will want to contact Willsha Blasting.
Willsha Blasting is the premier dustless blasting service in the area.
Our experts are highly-trained and skilled and know how to use our dustless blasting equipment. After you give us a call, a member of our team will talk you through a free consultation. We'll then visit you to survey your pool and the area that needs to be cleaned.
We can remove everything, including:
Algae
Calcium
Dirt and grime buildup
We have dustless blasting equipment that we'll bring to you, so you don't have to worry about renting the equipment. We'll get in your pool and clean every inch of your swimming area.
We've heard from countless customers who have remarked that they couldn't believe that we brought their pool back to life and restored it to its original appearance.
We understand how much your pool means to you.
We feel that dustless blasting is a worthwhile choice because we use an abrasive that's strong enough to remove any material that's caked onto the side of your pool.
However, we also know that your pool is an investment and that you don't want to damage any of the underlying surfaces. Our dustless blasting techniques are gentle enough to clean without ruining your pool surface.
Furthermore, it's not just tile that we clean. If you have a vinyl or concrete pool surface, our dustless blasting services are strong and gentle enough to clean them as well.
We can also clean your pool deck as well.
If you have any questions or would like to get a free consultation, give us a call or fill out the free quote form.
We look forward to making your pool look new again!